American STUDIO TEXTURES wallpaper for residential and public spaces credibly imitate natural fabrics. Such designs look fresh and original, add delicacy to the interiors and create great opportunities for pursuing the designer's tasks. Decorative wallpaper in Boho style with a textured gauze pattern (fabric for summer clothes with ethnic elements) looks airy and soft, just like this material. The slight deformation of intertwined cotton or linen threads on STUDIO TEXTURES wallpaper looks very natural. The rich colors of Cahors wine, coffee beans, haze, dawn fog and blue ice are meant for the walls of offices, halls, bedrooms and living rooms and satisfy the most demanding tastes of the owners.
Tags: Wallpapers Living room Scandinavian
Read more: Textured wallpapers STUDIO TEXTURES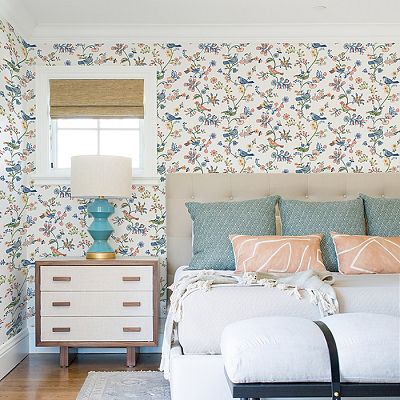 Monochrome wallpaper with a jute texture in nude and sea blue colors, as well as wallpaper imitating sailing boats coarse linen in pastel and dark blue shades, would serve as perfect companions for original designs with FLORA & FAUNA prints. FLORA & FAUNA rolled wallpaper with a diagonal parquet "herringbone" print makes you feel a little nostalgic for natural materials finishings (stained oak, walnut, ash tree, Karelian birch), which over time become only better and look nobler having acquired some aristocratic gloss. 
Tags: Wallpapers Wallpaper for kids Hygge Scandinavian
Read more: Flowers, animals and birds on FLORA & FAUNA wallpaper
We are excited to introduce our "Warm Christmas" designs as part of our Inspiration Stories series for the upcoming Holidays. Wallpaper is Atmosphere, We all want snow for the new year! Nothing creates the atmosphere of the New Year holiday like a Christmas tree and snowflakes circling outside the window or flying on the walls in the house. We are excited to introduce our new edge cut technology product - Special self-adhesive Peel & stick design wallpapers. The new product have been created for a fancy interior decoration, Self-adhesive wallpapers with New Year's motifs are surprisingly practical: just remove the protective film from the inside and press it against a smooth and clean wall. Then spread it over with a plastic spatula and the wallpaper will adhere firmly to the wall. If necessary, you can easily remove them from the wall and stick them back on, even several times. You can use this quality not only on the walls, but also on doors, cupboard furniture or even in elevators to achieve the desired atmosphere in the interior. A mother-of-pearl or gray-blue background, like snow drifts in daylight and at winter twilight.
Read more: Warm Christmas with Peel & Stick Wallpapers
Shimmer - the new collection from KT Exclusive - stylish wallpapers with a shining look. Elegant radiance is one of the most fashionable trends of recent years. Now in vogue is a slight shimmer of precious stones or metal, not abundant glitter, which was popular in the 1990s. Wallpaper with glitter enriches the interior and it seems that it does not only work as background for beautiful furniture and paintings, but also to become the main decoration of your walls. In addition, the slight glimmer of the wallpaper creates an interesting visual effect: it reflects light all over and expands the space, making the room larger. The Shimmer collection is truly fancy, restrained and aristocratic. The designers paid special attention to the colour palette, which looks very elegant, calm, and also a little bit cold. Predominant are shades of precious and semi-precious stones: pearls, agate, sapphire, lapis lazuli, ivory, and of course marble...
Read more: Shimmer - the new stylish collection with a shining look.
New collection Brownstone from KT Exclusive – it contains wallcoverings in eco-style, which is the most trendy fashion direction in the interior design in recent years. Wallpapers Brownstone were created to make your home warm and comfortable. They have nice natural textures, which were all borrowed from nature and have subtle natural shades. The colour palette of Brownstone wallcoverings is a very refined and delicate cocktail. It's a gamma of muted colours, with a fashionable "powdery" effect. Nothing flashy meets the eye, but a lot of smoky shades: smoky blue, smoky grey, smoky green, smoky taupe, ashy rose... This palette will never get boring and helps to create an oasis of calmness and tranquility. In addition, one look at these wallpapers already make you feel warmer. That is very important for rooms with windows facing North, and altogether for all houses having a Northern climate. However, the wallcoverings with powdery shades have the opposite effect.
Read more: Brownstone designer wallcoverings